I just can't go by any posts about this Queen without rush on to it and swallow every cell of this wonderful Goddess. Honestly, in my youth, I fell in love with some famous characters; the first one as I clearly can remember was Angela Cartwright; who got famous as Brigitta von Trapp in The Sound of Music and surely was known as Penny in the TV-series Lost in Space. And there it happened. I have fallen in love with her….
Anyway, the next one as still remains in my memory was Brigitte Bardot (I think that my old male friends can well have understanding!) though our love has a short time and with no success.
Now, I tell you that I have all forgotten and left all my old lovers behind but; this Goddess of painting is unforgettable (I still believe that my male friends all are agreed!)
So, now let's enjoy this wonderful post by the very agreeable culture site http://www.openculture.com/ Thanks and,,, I love you all 💖💖🥰😘
What the Iconic Painting, "The Two Fridas," Actually Tells Us About Frida Kahlo
I never painted dreams. I painted my own reality. —Frida Kahlo
You may be forgiven for assuming you already know everything there is to know about Frida Kahlo.
The subject of a high profile bio-pic, a bilingual opera, and numerous books for children and adults, her image is nearly as ubiquitous as Marilyn Monroe's, though Frida exercised a great deal of control over hers by painting dozens of unsmiling self-portraits in which her unplucked unibrow and her traditional Tehuana garb feature prominently.
(Whether she would appreciate having her image splashed across shower curtains, light switch covers, yoga mats, and t-shirts is another matter, and one even a force as formidable as she would be hard pressed to control from beyond the grave. Her immediately recognizable countenance powers every souvenir stall in Mexico City's Coyoacán neighborhood, where Casa Azul, the home in which she both was born and died, attracts some 25,000 visitors monthly.)
A recent episode of PBS' digital series The Art Assignment, above, examines the duality at Frida's core by using her double self-portrait, The Two Fridas (Las Dos Fridas), as a jumping off place.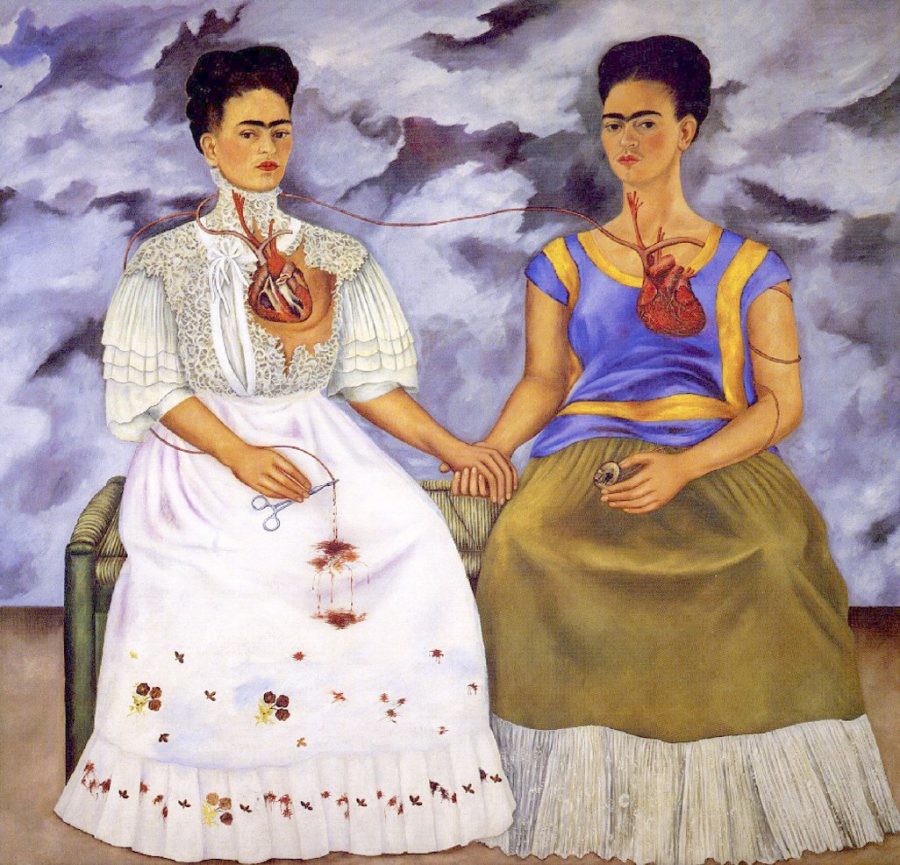 Kahlo herself explained that the traditionally dressed figure on the right is the one her just-divorced ex-husband, muralist Diego Rivera had loved, while the unloved one on the left fails to keep the untethered vein uniting them from soiling her Victorian wedding gown. (The vein, originates on the right, rising from a small childhood portrait of Rivera, that was among Kahlo's personal effects when she died.)
It's an expression of loneliness and yet, the twin-like figures are depicted tenderly clasping each other's hands:
Bereft but comforted
Fractured but intact
Lonely but not isolated
Broken but beautiful
Humiliated but proud
Kahlo's boundaries, it suggests, are highly permeable, in life, as in art, drawing from such influences as Bronzino, El Greco, Modigliani, Surrealism, and Catholic iconography in both European religious painting and Mexican folk art.
As for the new thing learned, this writer was unaware that when Kahlo married Rivera—her elder by 22 years—in a 1929 civil ceremony, she did so in skirt and blouse borrowed from her indigenous maid… a fact which speaks to the end of her popularity in certain quarters.