I must begin this post with a confession that I have never used a romantic poetic way in my life. I think that some of my wonderful friends who are great poets have noticed that I am not the one and they may be righ" 😁😉
Therefore, I want to present this post to these appreciated poetesses and poets. especially; Holly @hrenehunter https://houseofheartweb.wordpress.com/ , Yassy @yaskhan https://yassy66.wordpress.com/ , Lance Sheridan https://lancesheridan.com/ Deborah Gregory @liberatedsheep http://theliberatedsheep.com/ Mike Steeden @michaelsteeden https://mikesteeden.wordpress.com/ And surely many others. 🙏💖🤗💖🤗🙏
When I was young, I chose the way of logic; although likely read the romantic novels and even when I got into the world of theatre, I used both methods of Konstantin Sergejewitsch Stanislawski and Berthold Brecht; though, there is a huge difference between them. Stanislawski believed that the actor(ess) must bring the character on the stage into life, and Brecht wasn't agreed and wanted the Technique on the stage: {Epic Theatre}, but I used them both appropriately. You can find more here; https://en.wikipedia.org/wiki/Epic_theatre
First, let me tell you about the old style and the modern one in Persian poesy; the poesy in the old-time as belonging to the high society and the poets were appreciated by the kings and queens like in all countries; Athens, Romans, and Persians. In the old Persian, they had a special norm and regulation to write or make a poem; it had to have written in two sentences in the separated row with the same weight and in rhyme.
i
I have surely some favourites among those old poets; like Rumi, Khayyam and Hafez
But it never means that I wanted to block all the modern poesy in those days. My brother, Al, had a huge knowledge about the literature included poems, therefore, I was much involved in them. But my interest was not so strong as his, especially, when the modern poesy got famous in Iran and it was a very beloved subject in the meetings of the young intellectuals in some privet apartments, particularly after the Islamic revolution. We had a lot of discussions about the new poems and also there were young poets as newcomers and I had to challenge with them, then I had some problem to get accustomed to the new Poesy, I always meant that I had to understand it when I read a poem! They said that It might because of my lack of interest or understanding about the new wave but I had an argument: I answered I'd appreciate one of the new poets and it was him; Nima Yushij, the revolutioner who made a break in the old form of poesy in Iran and when I heard his poets I had not only understood it completely, it even had touched my soul.
Of course, these young poets were likely trying to get my approval for their own works and I was very amused when I once told a young poet "I like one of your piece" he was fascinatingly encouraged and happy!
Now let me introduce this great poet;
Nima Yushij
His real name is Ali Esfandiyari, he's born in 1896 and lived till 1960, the eldest son of Ebrahim Nouri of Yosh (a village near Nour county in Mazandaran province of Iran), was born on November 12 1896. He was a contemporary Tabari (Mazandarani dialect) (my father has been born almost in his neighbourhood) and Persian poet who started a new movement in Persian poetry called she'r-e no ("new poetry") or sometimes called she'r-e Nimaei (Nimaic poetry).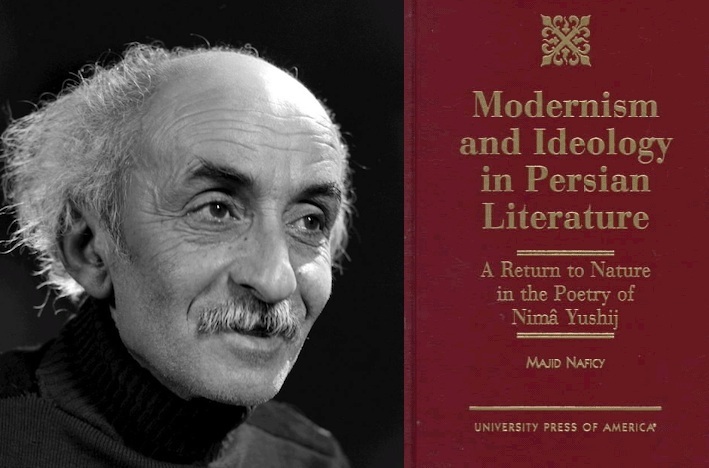 Here is one of his poets which might not be so famous but the one that hit my heart and soul. (as hard as it was I have tried to translate in English)
My House is Cloudy, by Nima Yushij:
my house is cloudy
the entire earth is cloudy with that
from the height, of the mountains pass, desolated ruin and drunk,
the wind whirls. and all the world been shattered by that,
and so my senses.
Ay, Player, that the sound of your flute brought you so out of road, where are you?
My house is cloudy
but, the cloud seems to pour rain
in the reverie of my clear days that have been lost.
I, into the facing of my Sun, carry a look at the threshold of the sea.
And all the world is ruined and shattered by the wind
and on the way, the player who blows into his flute in this cloudy world,
keep going on his own road.
And here is the original version;
خانه ام ابریست

یکسره روی زمین ابریست با ٱن

از فرازه گردنه ، خرد وخرابو مست

باد میپیچد ،

یکسره دنیا خراب از اوست

و حواس من.

ی نیزن که تورا ٱوای نی بردست دور از ره. کجای ٱ

خانه ام ابری است

اما

ابر بارانش گرفته است.

در خیال روزهای روشنم که از دست رفتندم

من به روی ٱفتابم می برم بر صاحت دریا نظاره

و همه دنیا خرا ب و خرد از باد است ،

وبراه نیزن که داىم مینوازد نی در این دنیای ابر اندود راه خود را دارد اندر پیش
Here are some great poets (the old and new) from Persian; hopefully, you'd enjoy 🤗💖🙏
via: http://iranianarchives.org/