Turn on, Tune in, Drop out! This World is not enough!
Honestly, the idea to write these memories was because I wanted to talk about the effect of psychedelic drugs on our unconsciousness. I have already had the idea a long time ago to write about this period of my life, but I was not sure if I should or even could talk about it. Of course not because I am shy or afraid doing so; it is just because of society, whether they understand correctly. I have once or twice shared my thought with some people about this issue and noticed how they reacted; they believed I'm making advertisements on this theme. No, it's not my intention!
Anyway, I have developed myself in my way of making music, I got a big set of drums and began to play as a professional, and Al and I put our differences aside. There's a friend of mine who played the guitars and we had got many performances together, within music bands or even alone as a duo on the stage. We had a lot of fun those days, and the only drug we have used was hash or marijuana. Those were the days
But my musical career has not lasted so long because our mother became sick and the diagnosis was blood cancer. And it took only some months, till she left us. I was in my highest hippy times those days, and it broke my heart, but on the other hand, this brought Al and me closer to each other.
The door had been opened and we were being involved in many kinds of drugs which I'd call this "our common riots". That was after we'd lost our mother and we wanted to hide in our hut; hide from family and the world, and just wanted being left alone. Among the drugs there were some dangerous ones which were unavoidable; like the opium or the heroin, that I'd say, we were lucky to get rid of them, of course, we had needed for it many years. In between, we had also experienced the LSD, this one I'd never regret. It helped us to get a wider vision towards life, and death. In my opinion, it can still be used as a medical solution for many different psychedelics disease.
Some people may think that we don't need any kind of drugs to reach out to the inner mind. I met many people to discuss this theme. One of them was a Shamanist, who told me that she had never needed such a substance (like Ayahuasca) to get to the other side, it only required dancing with special music. She said that she could convince me if I would join her once. I liked the idea, we met in her apartment and danced almost through the night. It was a very nice and unforgettable experience for me and in the end, we had wonderful sex. Although, what I meant was another kind of trips to reach out the inner soul. And it needs drugs but, a well made and professional.
Another example: when I was busy in my full job, I had a customer, a psychologist, every time that she was in my car, we had talked on our way about people and the world, in-between, we became so much closer than we have also talked about our pasts, losses, and the experiences in our youth. I told her about ours (Al's and mine) addictions time, and she told me about her sister's (she had nothing to do with drugs herself), but when I told her about our experiences on LSD and the famous Dr Timothy Leary's ideas, she became very sad, I was surprised and wanted to know the reason why. She raised her wet eyes towards me and said; no! His idea killed my sister, she followed him blindly and finally committed suicide! Of course, it was like a shock for me and I couldn't say a word anymore though, I am still convinced that it is not the fault of this or that ideas, it is the comprehension of the ideas and the way how to use them.
John Lennon insisted that his song; Lucy in the Sky with Diamonds is not about LSD, though I think there's something in it!
Al and I had about nine times practice on LSD, the beginning was the enjoyment of the lights and the music. We have comprehended that sometimes we might not be aware of how deeply we would feel the arts when we looked at like a painting or listen to a song. And when we've reached the eighth or ninth time, we could even separate our souls from our bodies. (It was winter and I was able to let the cold pass by me like an object!) We have found out the connection between them, and finally, understood the power of our souls. Sorry, It is very hard for me to explain or put in the word.
As you might notice, the quotation which I've written under the title of my blog; "Turn on, Tune in, Drop out", is from Timothy Leary. Timothy Francis Leary was an American psychologist and writer known for his strong advocacy of psychedelic drugs. Evaluations of Leary are polarized, ranging from bold oracle to publicity hound. He was "a hero of American consciousness", according to Allen Ginsberg, and Tom Robbins called him a "brave neuronaut". Wikipedia
He had not got as famous to reach the whole world; we didn't know him in Iran those days until we heard this song by Moody Blues Album: Legend Of Mind
Actually, the main goal belongs to Albert Hofmann, who discovered or better to say the invented the LSD.
I hope this long story did not bother or anger you because it does seem like an advertisement for drugs! I have just written about my experiences and over that my opinion. I wish you all Love & peace and be safe. I end this trilogy with another quotation of Terence Mckenna; I think he doesn't need to be introduced.
It might be unnecessary to note that today it will be only one post from me. I've got an operation on my forehead on Thursday, to rid a big pimple and I am a bit tired. I look just like a boxer after his fight who is waiting to hear the result! Though, there's no way means you will pass me by; The riot keeps going…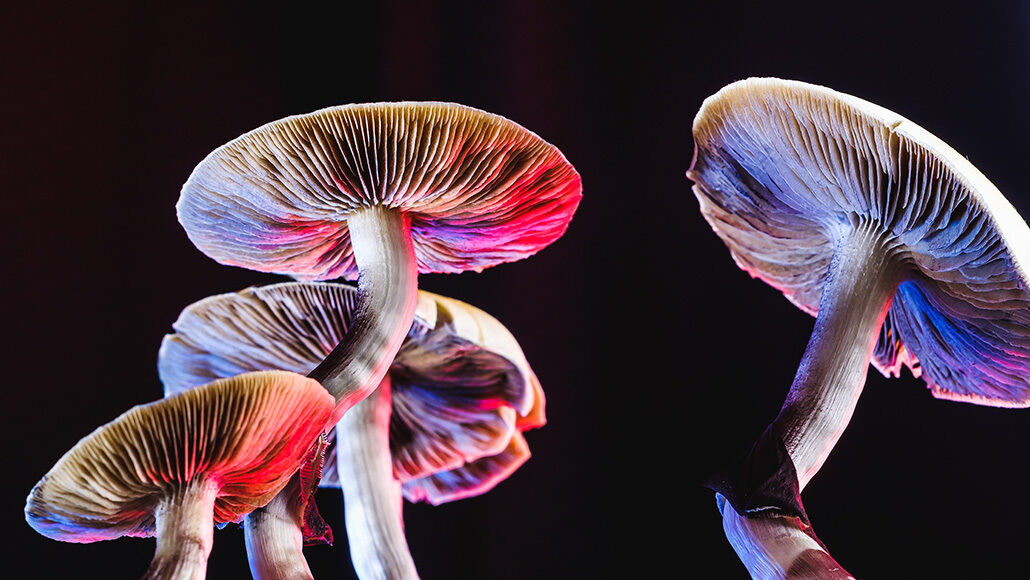 https://www.sciencenews.org/article/psilocybin-treat-depression-mushrooms-psychedelic
https://en.wikiquote.org/wiki/Timothy_Leary